The Rots Upcoming Exhibit
I've collected a combination of the best and latest Rots I've been painting and drawing, and they'll all be shown at a new exhibit opening next month.
Here's the event page on Facebook.
And here are the details:
Places & People
August 19-November 6, 2016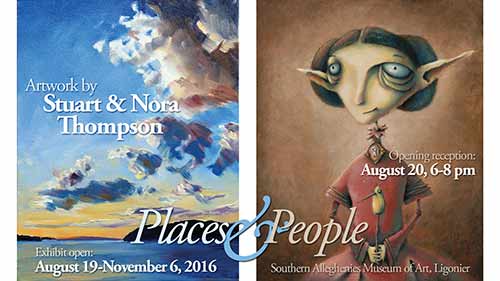 Opening reception: August 20, 2016, 6-8 p.m.
Places & People will be a joint exhibit with my husband, Stuart Thompson, who will be exhibiting oil on canvas, clay wall pieces and free-standing clay. I will be showing The Rots in both paintings and drawings.
Southern Alleghenies Museum of Art, Ligonier Valley
One Boucher Lane & Route 711 South
Ligonier, Pennsylvania
Hours of Operation:
Tuesday-Friday: 10 a.m. to 5 p.m.
Saturday-Sunday: 1 p.m. to 5 p.m.
Closed Mondays and holidays
Phone: 724.238.6015