The Rots are available at these fine locations: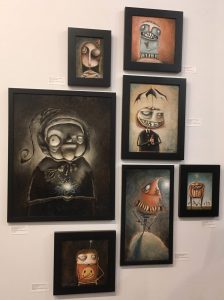 Stranger Factory 1431 NM HWY 313 Suite B, Algodones NM 87001
Gallery 30 South 30 South Wilson Ave, Pasadena CA 91106
Main Exhibit Gallery 301 West Main Street, Ligonier PA 15658
Cactus Gallery 4401 Ellenwood Drive, Los Angeles CA 90041
Dark Art Emporium 121 West 4th Street, Long Beach CA 90802
The Aeon Gallery 10331 North Main Street, Richmond IL 60071
Revolution Gallery 1419 Hertel Avenue, Buffalo NY 14214
Latrobe Art Center 819 Ligonier St, Latrobe PA 15650
Curio Cool 113 North Main Street, Zelienople PA 16063
Pittsburgh Center for Arts & Media 1047 Shady Avenue, Pittsburgh PA 15232
Bottle Works 411 3rd Avenue, Johnstown PA 15906
The Rots online shop
Society6
Spoonflower
If you own a Rot, let me know what you think:
---
I just adore my Rotties to pieces, so much so I could die
I think they check enough different boxes for people with their varying likes; they're creepy, they're cute, the talent is glaringly evident, they're original (but some pieces are also familiar in a comfortable nostalgic manner), they're fantastical, so on and so forth. I squeed when I opened the SUPER well-packed envelope – guys. Of all the art I bought with my stimulus check, hands down Nora had the most efficient packing, in that she protects the corners with crafty cardboard corners (mine was a special edition of Cheerios – BONUS, lol).
Maximum amount of stars for quality, for shipping, for communication (really, really approachable, flexible, friendly), for website layout. Transaction was painless and went flawlessly, paperstock is premium. The care, the thank you note, the little bonus gifts, A+. I clearly could continuously gush on and on, however I shall end with I'll be a repeat customer with absolute certainty, in the very least to give Sophia more birb friends.
*I bought the Owl Whisperer, Sophia, and Edgar & Chloe.
Love the Holiday Cards
Nora's holiday cards are…different? Interesting? Intriguing? All of the above. But most of all, they are HAPPY!. I was totally blown away by the quality of the card stock and the envelopes. Since they are blank inside, I was able to write my own notes, so they were good for friends that don't celebrate the Christmas holiday as such. And the paper was so nice on which to write – my pen glided over the surface but the ink did not smear like on shiny cards. All in all, I will buy these again…and again…and again.
Holiday Cards
I especially loved one card and asked for a large bundle of 20 to be offered. It was handled before I could even locate my credit card. Yay! I'll be mailing monsters for the holidays this year! Great artwork, and great service.