The Rots are available at these fine locations: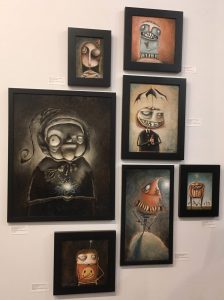 Stranger Factory 1431 NM HWY 313 Suite B, Algodones NM 87001
The Artsmiths of Pittsburgh 329 E Main St, Carnegie PA 15106
Main Exhibit Gallery 301 West Main St, Ligonier PA 15658
Cactus Gallery 3001 North Coolidge Avenue, Los Angeles CA 90039
Real Odd Company 684 West St, Pittsboro NC 27312
Red Fish Bowl 4327 Butler St #200, Pittsburgh PA 15201
Artwhirl Gallery 30 W Park Ave #204, Long Beach NY 11561
Revolution Gallery 1419 Hertel Avenue, Buffalo NY 14216
Latrobe Art Center 819 Ligonier St, Latrobe PA 15650
Bottle Works 411 3rd Ave, Johnstown PA 15906
The Rots online shop
Creepy Crafters
Zazzle
Society6
If you own a Rot, let me know what you think:
---
I just adore my Rotties to pieces, so much so I could die
I think they check enough different boxes for people with their varying likes; they're creepy, they're cute, the talent is glaringly evident, they're original (but some pieces are also familiar in a comfortable nostalgic manner), they're fantastical, so on and so forth. I squeed when I opened the SUPER well-packed envelope – guys. Of all the art I bought with my stimulus check, hands down Nora had the most efficient packing, in that she protects the corners with crafty cardboard corners (mine was a special edition of Cheerios – BONUS, lol).
Maximum amount of stars for quality, for shipping, for communication (really, really approachable, flexible, friendly), for website layout. Transaction was painless and went flawlessly, paperstock is premium. The care, the thank you note, the little bonus gifts, A+. I clearly could continuously gush on and on, however I shall end with I'll be a repeat customer with absolute certainty, in the very least to give Sophia more birb friends.
*I bought the Owl Whisperer, Sophia, and Edgar & Chloe.