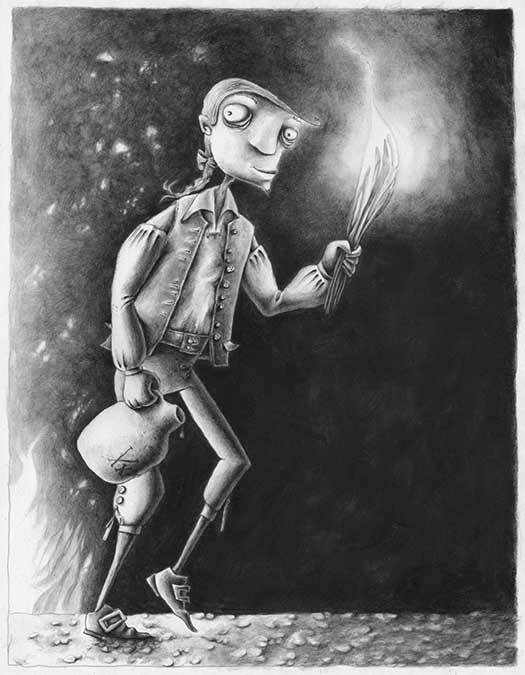 I'm a member of the Pittsburgh Society of Illustrators, and they're putting on an exhibit at the Heinz History Center in Pittsburgh later this year. It's called "Art of Facts: Uncovering Pittsburgh Stories" and will showcase Pittsburgh-related stories as illustrated by our members.
We were asked to illustrate something that told a specific story that happened in or around the city, and I decided to illustrate an event that happened during the Whiskey Rebellion. Here's the copy for the exhibit website:
Small distilleries and farmers west of the Appalachians believed a 1791 whiskey tax imposed by the newly formed United States federal government unfairly targeted westerners, and many resisted paying. Some tax collectors were tarred and feathered when they attempted to collect the tax. In one incident, Philip Wigle assaulted a tax collector and set his house on fire. He was convicted and sentenced to death by hanging, but was pardoned by President George Washington.
And here's the illustration I did of Philip, illustrating the minutes right after he set the fire. I drew the final illustration with water-soluble graphite pencils and powdered graphite on 11″x14″ Bristol.
But the best news is, not only was Philip accepted into the exhibit, but he also won the Ruddy award for best use of figure or landscape! If you've ever entered into a juried exhibit, you know how hard it is just to get in, and you can mostly forget about winning an award. This gives me hope that maybe I'm heading in the right direction.