City Paper street box
So some of you might know about the City Paper street box I painted three years ago (has it been that long?). Andy got a lot of good feedback at the time, and for some reason I didn't take him to any other level, let alone the next one.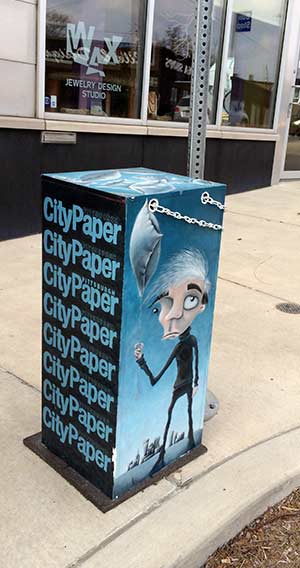 Well, all that's changed.
After some Photoshopping to get the background size right and get rid of the holes and seams of the box, I've made Andy into a greeting card. He's available in The Rots' online shop. I'm calling the new image "Andy's Balloons."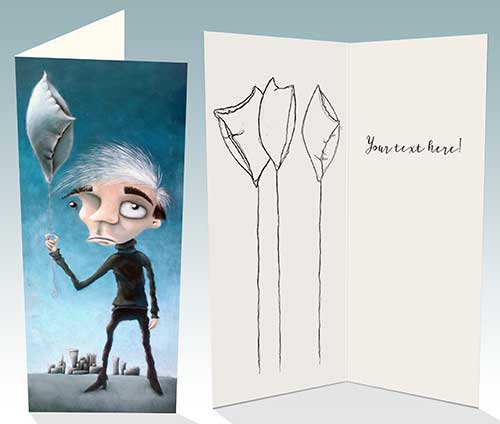 On the card, Andy's up front, and three of the balloons I drew as part of the sketches for the box are on the inside, left.
Here's the experiment: I want to leave the inside text up to you. I can make it say "Happy Birthday!" if you want. I can make it say "Your 15 minutes are up" if that's what you want instead. Or I can make it say absolutely nothing if you want to write your own thing. It's all up to you.
Step 1: Go to Andy's Balloons Greeting Card in The Rots' online shop.
Step 2: Select an option (single, five- or ten-pack) and a quantity, and click "Add to cart."
Step 3: Begin the checkout process.
Step 4: Look for the box that says, "Add additional note to merchant (optional)."
Step 5: Type your custom text in the box or leave it blank if you don't want any text on the inside of your card.
Step 6: Finish checking out.
Step 7: Celebrate your bad self with a little chocolate for shopping with a small business that loves you!
Just a Card
Here are some great people with a very important message. Give them a look, and buy your friend a card from a small business today. It's more valuable than you know.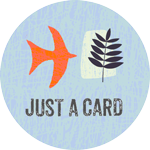 In case you didn't know about Andy or have forgotten, here are the in-progress City Paper street box posts:
Here's the sketch
And the box
And where I do some painting
And then I paint some more
And some more
And then *poof* it's finished